Paris is a city full of rich history and culture and whilst many people come to Paris to visit the numerous museums and stunning old buildings, its also possible to get even closer to this history by staying in one of the famous hotels in Paris, historic hotels with a rich past within their walls.
Given how important these historic hotels in Paris are to the city's heritage, one of the best things for any history buffs would be to spend a night or two at one of the hotels.  These historic Paris hotels are some of the city's finest hotels with some of these 5 stars hotels in Paris being awarded with the prestigious Paris "palace" hotels status.
If you're interested in staying in one of these famous hotels in Paris, then you're going to find this guide on the historical hotels in Paris useful.  In this guide, we show you some of the best hotels in Paris all with fascinating histories and where some of the most influential people in Europe's history once stayed.
Whether you are looking for luxury hotels in Paris for a weekend away, romantic hotels in Paris with a loved one or just wanting to stay in one of the famous Paris hotels to get a deeper connection to the city's rich history, this guide will no doubt provide you with some fantastic options.
TIP: Read our Paris Arrondissements Guide to learn about the districts where these famous hotels are located
Palace Hotels Status in France
If you're the sort of traveler who enjoys staying in the most luxurious hotels around the world, you will just love staying in one of the Palace Hotel Paris.
In France, the tourist authorities have officially established the Distinction "Palace Hotels" to identify, among the luxury hotels, the exceptional establishments.
Palace is a superior classification exclusively awarded to five-star hotels in France offering the highest level of service to its customers. Some criteria for obtaining the label "palace" are the hotel's geographical location, historical interest, aesthetic and /or particular heritage or the quality of their bars, restaurants (most of them Michelin starred restaurants) and cellars. To date, only a very few hotels hold the prestigious palace rating, being half of these hotels located in Paris.
Hotels with the "palace" distinction are the very finest 5-star hotels in Paris and represent the very best in French standards of excellence.  These Paris 5 star hotels with the "palace" distinction have been awarded this official government rating to acknowledge their exceptional 5-star service and facilities making them somewhat a 6-star hotel in Paris. Here's the list of our favorite Paris historic hotels-palace:
Historic Hotels Palace, Paris
The Peninsula Paris
Address: 19 Avenue Kléber, 75116 Paris
Originally the palace of Castile, the Peninsula Paris was opened in 1908 and quickly became a hotel frequented by the members of the Parisian high society.  However, during the WW1 the hotel briefly became a temporary hospital and was reopened as a hotel in 1916.  During this time several famous people were spotted at the Peninsula Paris including Marcel Proust, Pablo Picasso, Igor Stravinsky, and Serge Diaghilev.
From 1936 the building became the property of the state and was converted into a government building.  During the period 1946-1958, it was even home to the UNESCO headquarters.  However, since 2007 the building once again operated as a first class hotel and in 2016 it was given its palace ranking.
Located on Avenue Kleber, just 400 meters from the Arc de Triomphe, this palace hotel in Paris is one of the best luxury hotels in Paris with Eiffel Tower view.  The hotel provides 200 guest rooms and suites lavishly decorated with dark polished wood furniture and crisp cream and grey fabrics.  Guest rooms include a mini bar, daily replenished fruit platter, a printer, a tablet which controls the curtains, lights, and TV, USB sockets and speakers as well as spacious bathroom with marble floors and a black marble bathtub with an integrated TV.
This palace hotel Paris offers first class facilities.  Here you will find the longest hotel pool in Paris, a large fitness center (with the option of personal trainers), day spa, sauna, steam room, bar, rooftop restaurant (offering panoramic views across the Paris skyline) and guests may even borrow Peninsula branded electric bicycles.
Book your Room with Agoda  |  Book your Room with Booking.com
Hotel Raphael Paris
Address: 17 Avenue Kléber, 75016 Paris
Hotel Raphael is another of the great 5 star hotels in Paris with a view of Eiffel Tower, located just a few minutes walk from Champs Elysées and Arc de Triomphe. This historic hotel combines to perfection the past Parisian glamour with a fresh twist. Hotel Raphael was built during the Roaring Twenties on the grounds of a private mansion, alongside a greyhound race course. The Raphael hotel has an Art Deco decoration and was named after the painter Raphaël and the arts.
All the rooms and suites are uniquely decorated in Louis XV and Louis XVI style while guestrooms feature wood furnishings, elaborate wall hangings, and an exceptional collection of antiques built up by the owners over the last 100 years.
Hotel Raphael's guests have access to great facilities like a fitness center, a sophisticated restaurant serving gourmet French cuisine, and one of the best views of Paris from its beautiful rooftop bar and terrace. If you can, go for the Eiffel Tower Suite.
Book your Room with Agoda  |  Book your Room with Booking.com
Hotel Le Plaza Athénée Paris
Address: 25 Avenue Montaigne, 75008 Paris
Hotel Plaza Athénée is one of the best luxury hotels in Paris with Eiffel Tower view. The hotel is located in Avenue Montaigne, in the heart of the Haute Couture "Golden Triangle". The hotel was built in two campaigns between 1902 and 1909, designed in an eclectic style by architect Charles Lefèvre. Active since 1913, this legendary hotel has welcomed royalty, celebrities, and politicians in their visit to the City of Lights and it is considered one of the best hotels in Paris.
On the occasion of a change of ownership in 1933, the hotel is modernized. He opened again in 1936. During the Second World War, he was successively occupied by the German and American commands. He will return to his commercial activity in 1946.
Hotel Plaza Athénée embodies the Haute Couture spirit proposing its guests a beautiful choice of unique rooms and suites designed with an exquisite Louis XVI or Art Déco inspired décor.
Hotel Plaza Athénée also comes with great facilities like amazing public areas, a charming inner garden, and five on-site restaurants lead by a Michelin-star chef. Some Great Features include a fitness center and spa, the wide choice of restaurants, its vegetal decoration. If possible, go for the Eiffel Suite, with a spectacular view of the Eiffel Tower.
Book your Room with Agoda  |  Book your Room with Booking.com
Hotel Le Meurice Paris
Address: 228 Rue de Rivoli, 75001 Paris
The Hotel Le Meurice, located facing the Tuileries Garden in the first Arrondissement of Paris, was initially opened in 1771 as a first-class hotel for English tourists to ensure they had accommodation which provided all the exquisite comforts they were accustomed to at home.  The hotel was then expanded in 1835 and ever since has been frequented by some of the world's most influential people.
Since the 1930's the hotel has had many royal guests stay which has led to it often being referred to as the "hotel of kings".  Royal guests have included the Spanish King Alphonso XIII, the Prince of Wales, the kings of Italy, Belgium, Greece, Bulgaria, Denmark, Montenegro, the Shah of Persia, and Le Bey of Tunis.  Other well-known guests have included Rockefeller, the President of the French Republic, Dumbledore and US President Roosevelt, Count Ciano, British Prime Minister Anthony Eden, Salvador Dalí, Andy Warhol and Bob Dylan.
During WWII the hotel was used as the headquarters for the German Army and as official accommodation for General Dietrich von Choltitz, commander of Paris under the German occupation.
Today the hotel has is decorated with a mix of exquisite 18th-century features and modern-day pieces.  Facilities on offer for guests include a day spa, steam room, sauna, fitness center, bar, two restaurants – including a two-star Michelin restaurant.
There are 160 rooms and suites on offer which are all decorated with Louis XVI furniture including grand armchairs and curtains in silk with ornate wall moldings and chandeliers.  Like most famous historic Paris hotels, all rooms include modern amenities such as wall mount TV, USB ports and bathrooms with Italian marble and deep bathtubs.
Book your Room with Agoda  | Book your Room with Booking.com
Hotel de Crillon Paris
Address: 10 Place de la Concorde, 75008 Paris
Previously known as the Hotel d'Aumont, this hotel was built in 1765 and is the oldest of the Paris hotels Palace rated in this guide.
Acquired by the Crillon family in 1788, it was then confiscated by the government during the French Revolution before being eventually returned to the Crillon family who owned it until 1907. It was then bought by the Société des Grands Magasins du Louvre and transformed into a luxury hotel.
In 1940, the hotel once again changed ownership when General Bogislav von Studnitz took ownership when the Occupation of Paris began.  It was then used for prisoners of war and then during the Liberation of Paris in 1944, German snipers took fire from the windows of the hotel.
Like most of the historic hotels Paris has, this hotel has attracted some very influential guests.  In fact, it was here that in 1919, American President Woodrow Wilson and the Allied delegates drew up the constitutive pact of the League of Nations. Other famous guests include Winston Churchill, US President Richard Nixon, Emperor of Japan Hirohito, Egyptian Hosni Mubarak or Queen Noor of Jordan, Mohamed V, King of Morocco, Queen Sofia of Spain, Nobel Prize winners Yasser Arafat and Shimon Peres, Fidel Castro and singer Madonna.  It is also said to be where Queen Marie-Antoinette came to take her piano lessons.
The Hotel de Crillon has 124 rooms and suites which are all decorated in lovely muted tones.  Rooms include Rivolta Carmignani Italian linen and French Drouault pillows and duvets, USB charging ports and spacious marble bathrooms with under floor heating.  This luxurious hotel offers great facilities including a spa and indoor pool, hair salon, bar, two restaurants, sauna, steam room, and fitness center.
Book your Room with Agoda  | Book your Room with Booking.com
Four Seasons Hotel Georges V Paris
Address: 31 Avenue George V, 75008 Paris
One of the more modern palace hotels in this guide being built in 1928, the Hotel Georges V is considered one of the most prestigious hotels not just in Paris but in the whole world.  This luxury Art Deco hotel has even won several awards from Condé Nast Traveler magazine.
The hotel is lavishly decorated with period interiors containing spectacular works of art, crystal chandeliers, 17th tapestries, and extravagant flower displays.  The hotel features three Michelin star restaurants, an ornate afternoon tea lounge, and a chic bar featuring antique furniture and 19th-century art. Other facilities at the hotel include a marble courtyard, a luxurious spa, indoor pool, hot tub, sauna, and steam room.
L'Hotel Georges V has 244 rooms and suites all featuring a classic Louis XV style.  The bright rooms feature a desk, comfy armchairs, coffee table, flat-screen TVs, minifridges, espresso machines and marble bathrooms with a tub and walk-in shower.
Book your Room with Agoda  | Book your Room with Booking.com
Hotel Le Bristol Paris 
Address: 112 Rue du Faubourg Saint-Honoré, 75008 Paris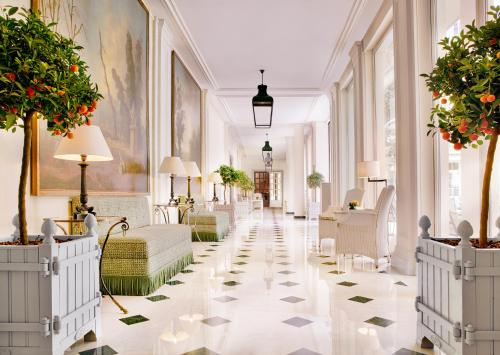 The Hotel Le Bristol Paris, another relatively modern hotel in this guide was opened in 1925 and has since been celebrated as one of the most luxurious hotels in Paris.  In fact in 1962, the American travel guide 'Fielding's Travel Guide to Europe' ranked the hotel in the top position, securing a prestigious reputation in the USA that still continues today.
In 1940 the hotel briefly became the home of the American Embassy and American nationals living in Paris before being returned to its original purpose as a hotel.  Since that time several famous people have stayed here including Konrad Adenauer, Kim Novak, Rita Hayworth, and Charlie Chaplin.
The Hotel Le Bristol Paris was the very first of the Palace Hotels in Paris due to its excellence in fine service and first-class facilities.  The hotel is decorated in quintessential French regalia with a grand foyer of polished marble floors, crystal chandeliers, Versailles style furniture, and 17th-century tapestries and extravagant flower displays. Guests facilities at the hotel include a pool, bar, spa, sauna, steam room, fitness center, two Michelin stars restaurants, and kids club.
There are 188 spacious rooms and suites for guests which are in two separate buildings connected by a long galleries glass hall.  Rooms are styled traditionally with floral bedspreads, grand curtains, antique furniture and marble bathrooms with heated floors.
Book your Room with Agoda  | Book your Room with Booking.com
Historic Paris 5 Star Hotels  
These 5-star hotels in Paris have nothing to envy the Palace hotels in Paris in terms of beauty, level of services to customer facilities. These luxury hotels in Paris were chosen for nobles and celebrities as their pied-à-terre in the city and they all share an interesting history. Here's the list of our favorite historic Paris 5-star hotels:
Hotel Ritz Paris
Address: 15 Place Vendôme, 75001 Paris
Located in the 1st arrondissement, the Ritz was first opened in 1898 when it quickly gained a reputation of providing luxurious accommodation to well-known politicians and movie stars.  When it first opened this was the most innovative hotel in that it was the first to have lifts, electricity and private bathrooms. Like many large hotels, the Ritz was requisitioned during WWII.  During this time the hotel was acquired by the Germans to be the seat of the Luftwaffe and to receive the guests of the Führer. Marshal Göring, chief of the Luftwaffe and the commander-in-chief of the city of Paris resided there.
OUR TIP: legend or true story? Click here to read about the Ritz's liberation by Hemingway
In honor of some of its more famous past visitors, the Ritz has named suites after their guests.  Such as the Coco Chanel who lived here until she died and Ernest Hemingway who was a frequent guest, in fact, there is even the Hemingway Bar.  Perhaps one of the most well-known guests at the Ritz was Princess Diana, who dined here in 1997 with her lover Dodi just before their fatal car crash.
Today this luxurious modern-day hotel is decorated with period furniture and Louis XV paintings.  The hotel has 142 guest rooms and suites which are lavishly decorated with fine woodwork, canopied beds, chandeliers, velvet sofas, period oil paintings, and marble fireplaces.  Rooms include a flat-screen TV, seating area and with some rooms featuring a terrace or balcony.  Facilities at the hotel include a spa, pool, sauna, fitness center, restaurants, bars, and spa.
Book your Room with Agoda  | Book your Room with Booking.com
Hotel Le Pavillon de la Reine & Spa
Address: 28 Place des Vosges, 75003 Paris
This family-owned boutique hotel is located in an aristocratic mansion built in the 17th century in the heart of Marais (3th Arrondissement of Paris), one of the most famous and historic areas of Paris.
Being built in 1612 by King Henry IV of France, the Hotel Le Pavillon De La Reine is the oldest hotel in this guide.  The hotel's name is a nod to the building's history, in honor of Queen Anne of Austria who once stayed in one of the wings. Given's the age of the building it's not surprising that in 1984, the hotel was classified as a historical monument.
Today this stunning hotel sits just back from the Place des Vosges, in a private garden courtyard, with the façade of the hotel being covered in a lovely ivy giving it a countryside feel, despite its city location.  The interior of the hotel contains soft furnishings, marble fireplaces, and aristocratic portraits.  On-site facilities include a fitness center, steam room, and spa.
This is an intimate hotel with only 56 rooms which are all styled differently.  You will find some rooms with exposed beams and decorated with antique pieces, whilst other rooms are styled with a more contemporary look.
Book your Room with Agoda  | Book your Room with Booking.com
Hotel Lutetia 
Address: 45 Boulevard Raspail, 75006 Paris
Via Flickr CC @Steve Cadman
Built in 1910, by Mr. Boucicaut, owner of the Bon Marché department store, the Hotel Lutetia is the most famous historic hotel on Paris's Left Bank, in the 6th Arrondissement of Paris. Mr. Boucicaut built this hotel so that her most important customers had somewhere to stay when they came to Paris to their shopping.
Like many hotels, during WWII, the German Army requisitioned the hotel and it was occupied by the Abwehr, the intelligence, and counterintelligence service of the German General Staff, which installed its headquarters there.  After the war, the hotel became the home for French Jewish survivors on their return from concentration camps, welcoming up to 2000 people each day.
As with many hotels in this guide, over the decades Hotel Lutetia has been visited by several well-known people.  Celebrities guests of the hotel include Andre Gide and James Joyce who wrote "Ulysses" at the hotel. Others include Picasso, Matisse, Josephine Baker, François Mitterrand and Albert Cohen who was living at the Lutetia while writing his masterpiece "Belle du Seigneur".
Hotel Lutetia was Paris' first Art Deco hotel and today many of these original features can still be seen such as the grand revolving door.  Recent renovations have included the removable of the ceiling in the interior courtyard which as revealed an old glass roof.  Guest facilities here include a restaurant, bar, spa, outdoor pool, sauna, steam room, and fitness center.
The art deco style is continued in the 184 guest rooms. Each room contains a flat-screen, Wi-Fi, minibars, a tablet which controls the curtains and lights and marble bathrooms with deep marble tubs.
Book your Room with Booking.com
Hotel Madison
Address: 143 Boulevard Saint-Germain, 75006 Paris
The Hotel Madison was built in 1925 on the site of a small wooden barrack that housed the Charpini cabaret, one of the most famous cabarets in Paris at that time. Over the decades, Hotel Madison has welcomed numerous well-known guests like André Malraux, Jean Giono, Edith Piaf, Jean Mermoz and Boris Pasternak, the author of the novel "Dr. Zivago".
During WWII, the hotel was requisitioned by the German Army, before being occupied by the French navy.  Like the Lutétia Hotel, after the war, the hotel also became home to French Jewish survivors upon their return to Paris.
The Hotel Madison has 52 guest rooms all featuring colorful decor and furnishings with modern touches.  Each room comes with Wi-Fi, flat-screen TV, minibars, and tea and coffee making equipment.  The hotel also has a breakfast lounge and bar.
Book your Room with Agoda  | Book your Room with Booking.com
Hotel Fouquet's Barriere Paris
Address: 46 Avenue George V, 75008 Paris
Whilst L 'Hôtel Fouquet's Barriere in its current state only opened in 2006, the building it resides in dates back to 1910 when it was called the Hotel of Countess of Granon-d'Aster. The hotel's famous brasserie, Le Fouquet's, dates back even further to 1899 where many international movie stars dined.
During the 1930s, Marlène Dietrich, Jean Gabin, and Sacha Guitry used to sign their contracts under the name of Fouquet's. Then the Nouvelle Vague followed and people like Jean-Luc Godard and Jean-Paul Belmondo made of Fouquet's their headquarters. In 1976, Maurice Casanova, the buyer of Fouquet's, organized with Georges Cravenne the evenings of Molière and César. Today, this glamorous tradition of the post-Caesar gala dinner continues. Several dishes are named in honor of the gourmet preferences of actors and directors. Pedro Almodóvar, Kevin Costner, Kate Winslet or Harrison Ford sat there.
As you walk into the hotel you feel like you are entering a private club. The interiors are dark and discreet, whilst the inner courtyard is large, quiet and airy.  The hotel's facilities include 2 restaurants (including the famous Le Fouquet's Brasserie), 3 bars, fitness center, pool, and steam room.
L'Hôtel Fouquet's Barriere has 81 fabulous rooms and suites which are all modernly decorated in mahogany wood and silk and velvet fabrics.  Rooms include a flat-screen TV, seating area, and a complimentary mini bar.
Book your Room with Agoda  | Book your Room with Booking.com
Hotel Prince de Galles
Address: 33 Avenue George V, 75008 Paris
The Hotel Prince de Galles was built in 1928 in an Art Deco style on the old quarries of Chaillot, which also served the construction of the Arc de Triomphe. The origin of the name of the hotel is easy to guess: the palace was intended to accommodate Edward VIII, the Prince of Wales, son of King George V (name of the avenue on which the hotel is located).
Over the decades, several influential people have resided at the Hotel Prince De Galles.  Well-known guests have included Sir Winston Churchill, Marlene Dietrich, Laurel and Hardy, Charles Laughton, Dalida (who attempted to end his life in his room, following the suicide of his lover Luigi Tenco), and Elvis Presley who served out his military service in Germany and spent his weekends in Paris.
This Art Deco hotel was reopened in 2013 after two years of renovations which enabled it to receive its 5-star rating.  The hotel's interiors now feature Saint Laurent black marble, Pierre Frey and Zimmer + Rohde fabrics, stunning chandeliers and black-and-white prints shot by Vogue in the 1920s.  Facilities at the hotel include a Michelin star restaurant, bar, steam room, and fitness center.
The hotel has 159 guest rooms including 44 suites ranging in sizes from standard to penthouse.  Rooms are contemporary decorated and each room contains a coffee machine, Sony PlayStation, Bosé speaker and marble bathroom complete with gorgeous wall mosaics.
Book your Room with Agoda  | Book your Room with Booking.com
Hotel Scribe
Address: 1 Rue Scribe, 75009 Paris
The building which is now home to the Hotel Scribe has served a colorful history since it was built in 1861 and quickly earned the reputation as being one of the city's most prestigious hotels.
Originally built as part of the creation of the Opera district by Baron Haussmann, the building was chosen as the site for the prestigious equestrian group the Jockey Club.  For a few years, the Jockey Club was located across two floors of the hotel before moving elsewhere.  In 1895, the Hotel Scribe was also where the Lumière brothers presented the world's first motion picture.
Over the years the hotel has welcomed many well-known guests. Celebrities that have visited Hotel Scribe include Duke of Morny, Prince of Sagan, Marcel Proust, Serge Diaghilev, Josephine Baker, and Lee Miller.
Guest rooms at Hotel Scribe have all been warmly decorated and include modern amenities.  Each room comes with a minibar, flat-screen TV, Wi-Fi, designer toiletries, tea and coffee making facilities and bathrooms containing a tub. Facilities at the hotel include a restaurant, bar, spa, fitness center
Book your Room with Agoda  | Book your Room with Booking.com
Hotel Particulier de Montmartre 
Address: Pavillon D, 23 Avenue Junot, 75018 Paris
Hotel Particulier de Montmartre is the former residence of several noble families including the Hermès and Rothschild family.  However, since 2007 this lovely home has been operating as a boutique hotel regularly visited by the rich and famous.
Nestled away in a charming secluded garden, this 1871 mansion is an ultra-exclusive boutique hotel, only offering five guest suites.  Each suite is individually designed and decorated from the Poèmes et Chapeaux room which as the name suggests is decorated with poems and hats for lampshades, whilst Végétale is green with pink floral wallpaper, cream furniture, and Venetian bathroom mirrors.  All guest suites have a patio with lovely views across the landscaped garden.  The hotel also includes a restaurant and bar.
Given it's only been operating as a hotel in recent years, the guest list contains some of today's top celebrities.  People such as Tom Hanks, Scarlett Johansson, Brad Pitt, and Angelina Jolie have been spotted here.
Book your Room with Agoda  | Book your Room with Booking.com
We hope that you enjoyed visiting these famous hotels in Paris with us, luxury hotels in Paris with many stories to tell. What is your favorite historic hotel in Paris?
Pin it now & read it later
Disclaimer: this post includes affiliate links, meaning we get a small commission if you make a purchase through our links. It costs you nothing more (in fact, if anything, you'll get a nice discount) but helps us to go on creating incredible Paris content for you. We trust all products promoted here and would never recommend a product that isn't of value. 
World in Paris is a participant in the Amazon Services LLC Associates Program, an affiliate advertising program designed to provide a means for sites to earn advertising fees by advertising and linking to amazon.com, amazon.co.uk, amazon.ca. Amazon and the Amazon logo are trademarks of Amazon.com, Inc. or its affiliates.